| | |
| --- | --- |
| Calendar of events from Queer|Art artists for the month of April. | |
CONNECT, COMMUNICATE
Promotional image for "Opacity," Big Art Group, 2017-2018



LISTENING AND BEING HEARD THROUGH ART

Emerging from Winter and rejoining the social scene in earnest brings abundant opportunity to engage and communicate with each other. This month, a natural focus has formed around Queer|Art Mentors and Fellows - four of whom are participating in discussions, Q&A's or readings to help illuminate work and bridge the gap between artist and audience. To kick off April (which is National Poetry month!) QAM Mentor Pamela Sneed has invited her current Fellow Heather Johnson, amongst other artists, to participate in an evening of readings at the Brooklyn Museum. On April 10th, Queer|Art|Film brings us a timely classic from the 80s, presented by singer/songwriter Shea Diamond who just dropped her first single "I Am Her" before her debut EP is released this Summer. To wrap up the month, we'll be hopping on a train upstate for a weekend getaway to see Caden Mason's Big Art Group perform as part of the Live Arts Biennial at Bard College. Whether in Brooklyn, Manhattan or the Hudson Valley, this month has plenty of opportunities to kick the Winter blues and see some Queer|Art!

Discover more ways to connect below:
An exhibition view of "Foundations"


KIMBERLY MAYHORN
Foundations
Artist talk: Saturday, April 1st, 4-6pm
Closing reception: Saturday, April 8th, 4-6pm

FiveMyles
558 St. Johns Pl.
Brooklyn, NY 11238
Current QAM Mentor Kimberly Mayhorn is currently showing work in a two-person exhibition entitled Foundations at FiveMyles, a non-profit exhibition and performance space in Crown Heights, Brooklyn. Her work is presented with A.V. Ryan, in a show that allows the artists to reflect on architecture and construction, both theoretically and technically. In this body of work, Mayhorn expressed an interest in "exploring how our environment and geographic influence - such as redlining, dictates how we think, move, and process our ideas and ideologies in the world." The gallery will also host an artist talk with both artists in attendance, moderated by Charlotta Kotik, followed a week later by a closing reception.

More on the exhibition and events here
(from left:) t'ai freedom ford, work from "I Hate the Way You Love Me" by Heather Johnson, Timothy DuWhite


PAMELA SNEED & HEATHER JOHNSON




An Address of the Times

Saturday, April 1st, 7pm

Brooklyn Museum
200 Eastern Pkwy
Brooklyn, NY 11238

Current QAM Mentor Pamela Sneed will present and curate a poetry reading program entitled An Address of the Times at Brooklyn Museum. She has invited her current Fellow Heather Johnson, Timothy DuWhite and t'ai freedom ford to share their work to a gathering in front of Mickalene Thomas' painting A Little Taste Outside of Love. Johnson will be reading an excerpt from her forthcoming poetry book A Survival Guide For Queer Black Youth, which she has been working on with Sneed during the mentorship program.

More on the events at Brooklyn Museum here
And on Facebook here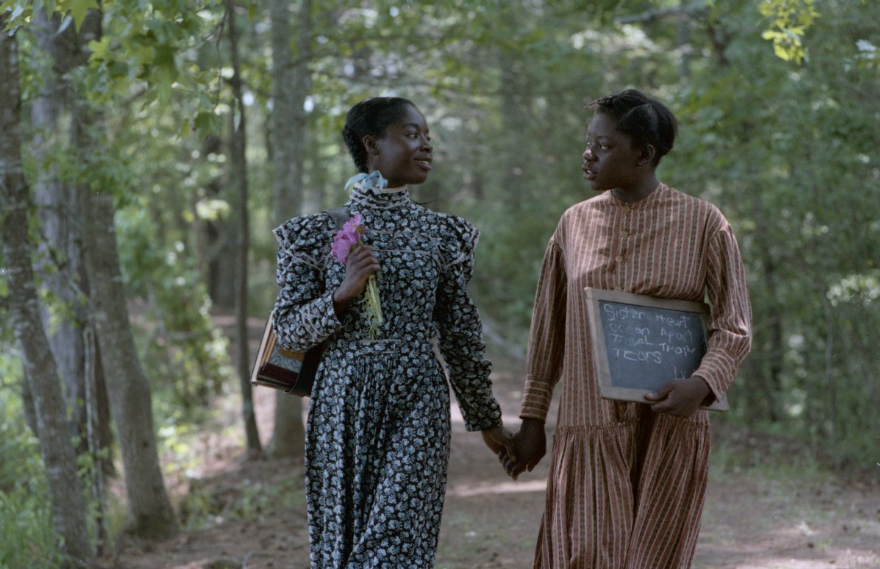 Akosua Busia and Desreta Jackson in "The Color Purple," Dir. Steven Spielberg, 1985


THE COLOR PURPLE
Presented by Shea Diamond
Monday, April 10th, 8pm
IFC Center
323 Sixth Ave.
New York, NY 10014

Join co-curators Ira Sachs and Adam Baran for Queer|Art|Film, a monthly screening series that welcomes a guest from the queer art community to show a film of their choosing, followed by a lively and memorable discussion. For April, Shea Diamond will present Steven Spielberg's 1985 film The Color Purple:

Spielberg followed up his string of blockbusters with a serious adaptation of Alice Walker's Pulitzer Prize-winning novel about the experiences of African-American women in 1930s Georgia, starring Whoopi Goldberg, Oprah Winfrey (in her debut) and Danny Glover. Though the film's merits were hotly debated by critics and fans of the book, The Color Purple earned 11 Oscar nominations and over the years became a queer film classic. Singer-songwriter Shea Diamond (who's releasing her debut LP in 2017) most appreciates the way the film depicts "the struggle of African American women, music and overcoming adversity."

As always, the screening will be followed by drinks and discussion at Julius Bar (159 West 10th St. at Waverly), the oldest gay bar in New York City.

For more information and to buy tickets, go
here
Add to:
iCalendar
/
Google Calendar
Still from "Oya: Something Happend on the Way to West Africa!" Dir. Seyi Adebanjo, 2015




SEYI ADEBANJO




Oya: Something Happened on the Way to West Africa!


Friday, April 14th, 11am

The Graduate Center, CUNY
365 Fifth Ave.
New York, NY 10016

2013-2014 QAM Fellow Seyi Adebanjo has been chosen to screen Ọya: Something Happened On The Way To West Africa! for the 2017 LGBTQ Scholars of Color National Conference. The film follows Adebanjo to Nigeria to connect with the Òrìṣà tradition and the legacy of the director's great grandmother, Chief Moloran Ìyá Ọlọ́ya. It will be shown in a screening series entitled TRANSfilmers: More Than Meets The Eye, alongside work by Vicky Du, Arkasha Stevenson, Joella Cabalu, Angelo Santos and Jacqueline (Jac) Gares. A Q&A with the directors will follow the films.

More on the screening here
Watch a clip of the film here
Rick Herron, "Faggotty Copse," 2014-2017


RICK HERRON
Abstract Communication
On view through: May 6th
Gallery Hours: Tuesday - Saturday, 2-7pm
HERE
145 Sixth Ave.
New York, NY 10013

2013-2014 QAM Fellow Rick Herron will appear in a group show, entitled Abstract Communication at HERE Arts Center. The exhibition, curated by Dan Halm responds to the question: Faced with multiple ways to communicate with one another, are we sending the right message? Or just getting lost in translation? Herron's pieces, which feature screen capture imagery, joins work by Kat Chamberlin, John Chang, Scott Hug, Amy Richards, Jeffrey Teuton and Quinn Tivey.

More on the show here
And on Facebook here
Thomas Dozol, "RR.38.BW," 2017


THOMAS DOZOL




Allow Me to Interject


On view through: May 7th
Hours: Weekdays, 10am-6pm, Weekends, 12-6pm

Lower East Side Printshop
306 W. 37th St., 6th Floor
New York, NY 10018

A print by 2012-2013 QAM Fellow Thomas Dozol appears in the group show entitled Allow Me to Interject, at the Lower East Side Printshop (in Hell's Kitchen). The show, curated by David Rios Ferreira, plays with/into the anxieties of how "we are eager to interject, assert our own conclusions, or forced to bear witness to narratives that were seemingly implausible."

More info on the exhibition here
UPCOMING EVENTS OUTSIDE NYC
An exhibition view of work by Liz Collins in "Made in Turkey"
LIZ COLLINS
Made in Turkey
Opening reception: Thursday, April 6th, 7pm

Hasköy İplik Fabrikası
Piri Paşa Mahallesi,
Şabanderesi Sok. No:7 D:1,
34445 Beyoğlu/İstanbul, Turkey

2016-2017 QAM Mentor Liz Collins will show two pieces in a group show organized by No LaB in Instanbul, Turkey. The show, entitled Made in Turkey, is staged at a converted former yarn factory, and features international artists responding to and incorporating Turkish street culture into their work.

More about the exhibition on Facebook here
More about No LaB here



SARAH SCHULMAN
Conflict is Not Abuse

reading

Monday, April 17th, Time TBD

Louisiana State University
Baton Rouge, Louisiana
Location TBD

Multi-year QAM Mentor Sarah Schulman will read from her newest book, Conflict is Not Abuse at Louisiana State University. The book, described by publisher Arsenal Pulp Press as "a searing rejection of the cultural phenomenon of blame, cruelty, and scapegoating, and how those in positions of power exacerbate and manipulate fear of the 'other' to achieve their goals," is now available online and in local stores.

More info on the reading forthcoming on Facebook here
More info on the book here
Promotional image for "Opacity," Big Art Group, 2017-2018


CADEN MANSON




Live Arts Bard Biennial


Preview Performances: April 27th - April 30th

Richard B. Fisher Center
Bard College
60 Manor Ave.
Annandale-On-Hudson, NY 12504

Big Art Group, the experimental performance ensemble co-founded by 2013-2015 QAM Mentor Caden Manson, will perform special previews of their new show, entitled Opacity. The performances will be part of the second Live Arts Bard Biennial, this year entitled We're Watching, and focused on the concept of surveillance. Big Art Group describes Opacity as "a dark reflection on the new strategies of connection, reverberating with dread, oddness, and seduction as it advances through its own inexorable and absurd logic." The biennial will also feature Alexandro Segade of My Barbarian, past QAF presenters, performing his new play entitled Future St.

Bard will be providing the Queer|Art community with a discounted ticket package for all performances on 4/29. Check QA website and social media for discount code after 4/3.

More on the Bard Live Arts Biennial here
More on Opacity here
Still from animation for the article by Arisleyda Dilone (Anna Salmi for Buzzfeed News)
ARISLEYDA DILONE
Article for Buzzfeed
2014-2015 QAM Fellow
Arisleyda Dilone
has written an article for Buzzfeed entitled
Growing Up Intersex, All I Wanted Were Breasts — But I Don't Know If I Want Them Anymore
. In the article, she writes about her evolving relationship to her body, from childhood, through high school and college, to now, and how that dynamically affected her relationships with family members and romantic partners.
Read the article
here
STACY SZYMASZEK
Lambda Literary Award Finalist
Lambda has announced that multi-year QAM Mentor Stacy Szymaszek's book of poetry, Journal of Ugly Sites & Other Journals is a finalist for the Lesbian Poetry category of the 29th Annual Lambda Literary Award. The book was published in 2016 by Fence, as the product of their 2015 Ottoline Prize awarded to Szymaszek. Congrats Stacy!

More about the book, including an excerpt, here
Read the full announcement of Lambda finalists here