| | |
| --- | --- |
| Calendar of events from Queer|Art artists for the month of June. | |
Avram Finkelstein (left) and Rodrigo Bellott at 2017's Queer|Art|Pride

Take out your sunnies and soak up the Queer Art! It's basically summer, which, in addition to obvious meteorological perks, also means great times spent in blessedly air-conditioned galleries/venues. This month, you can celebrate the end of one and start of a second show at The Bureau of General Services – Queer Division: On

June 8th

, Current QAM Fellow Marco DaSilva's solo exhibition, No Reason to be Careful, comes to a rousing end with On Euphoria, an evening of music and performance featuring DaSilva and Current QAM Fellow Jarrett Key. Then, on

June 15th

, Current QAM Mentor Liz Collins' curatorial powerhouse, Cast of Characters, will hold its public opening reception, featuring work by a whopping 95 LGBTQ artists, including scores of QAM Mentors and Fellows (see the full list below!). Round out the week by catching an evening of performances on

June 16th

at ISSUE Project Room, curated by Queer Trash, a curatorial trio that includes Current QAM Fellow Eames Armstrong.

In the second half of the month, get your
P
r
i
d
e
on! Join us for our second year of Queer|Art|Pride at Wythe Hotel in Williamsburg for a two-night celebration, featuring three programs of work by graduates of the Mentorship program. See y'all there

June 21st and 22nd

. And, catch you the next night (

June 23rd

) in Midtown for a special performance of Current QAM Fellow Ryan Haddad's My Straighties, part of Ars Nova's ANT Fest.

More on these events and much more below!
Now in its eighth year, Queer|Art|Mentorship supports a year-long exchange between early-career and advanced-career LGBTQ artists and curators. The 2018-2019 program cycle includes an incredible lineup of Mentors (just announced!) working in five different creative fields: Film, Literature, Performance, Visual Art, and Curatorial Practice.

The timeline for applications follows below - mark your calendars now!

Intent to Apply Deadline:

June 12, 2018


Application Deadline:

July 18, 2018


Program Begins: October 2018

Please go to
www.queer
-art.org/mentorship
for more information about the program, Mentors, and application instructions.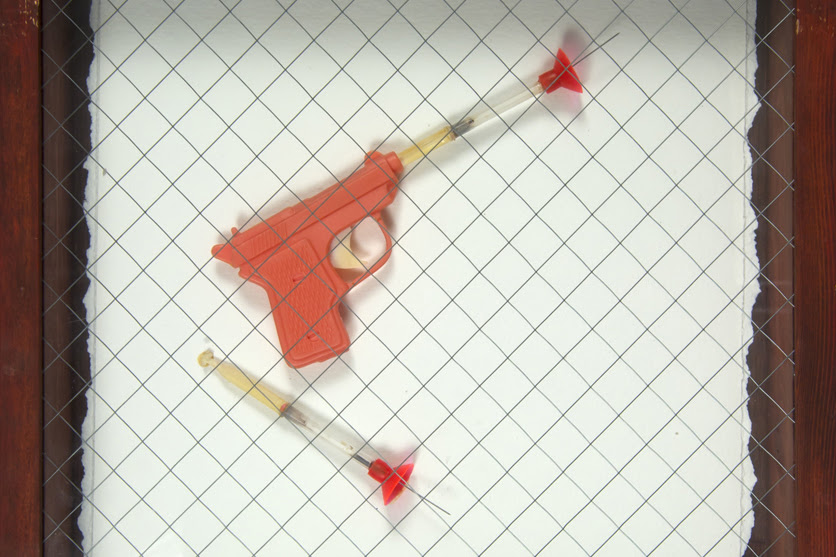 Barton Lidicé Beneš, detail of "Lethal Weapons: Silencer," 1994 (Courtesy of Pavel Zoubok Gallery, New York)


CELL COUNT


Co-presented by Visual AIDS
Opening Reception: Thursday, May 31st, 6pm
On view: May 31, 2018 -

June 16, 2018



Performances by DuWhite and Arseneault with Mikiki: Wednesday, June 6th, 7pm
Panel discussion about HIV criminalization:

Thursday, June 14th, 7pm


Closing tour with artist talks:

Saturday June 16th, 3pm



La Mama Galleria
47 Great Jones St.
New York, NY 10003

Featuring work by 2012-2013 QAM Fellow Camilo Godoy and QAF Presenters Jordan Arseneault and M. Lamar, Cell Count brings together artists who grapple with the discursive and material histories that underpin HIV criminalization. Drawing together 19th century experiments on enslaved women, the medicalization of homosexuality, and the Tuskegee Syphilis Study with the emergence of HIV-specific criminal statutes, Cell Countasks us to consider how medicine has been complicit with systems of surveillance and incarceration.

Cell Count is curated by Kyle Croft and Asher Mones co-presented by QA partner organization Visual AIDS.

More info here
Still from "A Kid Like Jake," Dir. Silas Howard, 2018


SILAS HOWARD
A Kid Like Jake NYC Premiere
Opens Friday, June 1st

Q&A's w/ Silas Howard:
Friday, June 1st, 7:10pm
Saturday, June 2nd, 7:10pm
Sunday, June 3rd, 2:40pm & 4:50pm

IFC Center
323 6th Ave.
New York, NY 10014

A Kid Like Jake, directed by 2015-2016 QAM Mentor Silas Howard, will have its New York City theatrical premiere at IFC Center. In the film, Park Slopers Alex (Claire Danes) and Greg (Jim Parsons) have a four-year-old-son Jake, who has always openly liked "girly" things. Daunted by the prospect of kindergarten in New York City's competitive enrollment system, the open-minded parents are taken aback when it's suggested to them that they emphasize Jake's non-adhering gender status as a way to give him an edge with getting into a private school.

More on the film and buy tickets here
Watch the trailer here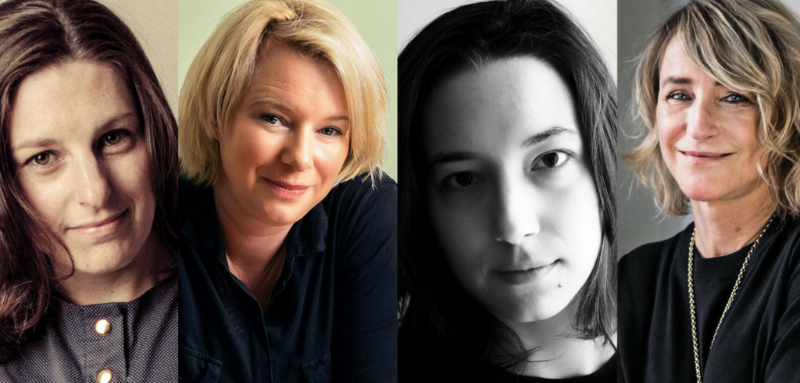 (from left): Gillian Robespierre, Julie Anne Robinson, Lauren Wolkstein, Tricia Brock


LAUREN WOLKSTEIN
TV Talk: The Women Behind
the Camera discussion
Saturday, June 2nd, 2:45pm

IFC Center
323 6th Ave.
New York, NY 10014

2012-2013 QAM Fellow Lauren Wolkstein will participate in a discussion entitled TV Talk: The Women Behind the Camera: Four Top TV Director On Showing vs. Telling. The talk is part of Split Screens Festival, which celebrates the art and craft of TV. Wolkstein (who recently directed an episode of the OWN show, Queen Sugar) will join Tricia Brock, Gillian Robespierre, and Julie Anne Robinson to discuss the phrase, "Show, don't tell," using clips of their work to show how the magic happens.

More on the event and buy tickets here


JUSTIN SAYRE
Justin Sayre's gAy-B-C's: A Brief History of Gay Culture in 5 Parts
Part 2 (I to M): Saturday, June 2nd, 9pm
Part 3 (N to R): Sunday, June 3rd, 9pm

Joe's Pub at The Public Theater
425 Lafayette St.
New York, NY 10003

2011-2012 QAM Fellow Justin Sayre returns to Joe's Pub with a new show, Justin Sayre's gAy-B-C's: A Brief History of Gay Culture in 5 Parts. Each show moves methodically through the rich legacy of Gay and Queer Culture. Touching on everything from Auntie Mame to Zebra Print, Sayre looks at the legends and lore of gay culture with stories, songs, and a lot of laughs. Each night covers different material, so don't miss a thing!

More information and tickets here
(from top left:) Pamela Sneed (photo by Patricia Silva), Avram Finkelstein, Tommy Pico (photo by Niqui Carter), Charles Rice-Gonzalez (photo by Jose Ramon)


Lamda Literary Awards
Avram Finkelstein, Tommy Pico, Charles Rice-González, Pamela Sneed
Monday, June 4th, 7pm

NYU Skirball Center for the Performing Arts
566 Laguardia Pl.
New York, NY 10012

The 30th Annual Lamda Literary Awards will bring together over 500 attendees, sponsors, and celebrities to celebrate excellence in LGBT literature. Nominees this year include Multi-year QAM Mentor Avram Finkelstein (for After Silence) and 2011-2012 QAM Fellow Tommy Pico (for Nature Poem). Presenters include Pico, Multi-year QAM Mentor Pamela Sneed, and QAF Presenters Kate Bornstein, Juliana Huxtable, and Carmelita Tropicana. The awards ceremony will be directed by 2018-2019 QAM Mentor Charles Rice-González.

More on the evening and buy tickets here


HUGH RYAN
Queer Histories of the Brooklyn Waterfront talk
Tuesday, June 5th, 6:30-7:30pm

Seaport Museum
12 Fulton St.
New York, NY 10038

2015-2016 QAM Fellow Hugh Ryan will hold a talk at the Seaport Museum in honor of Pride, entitled The Queer Histories of Brooklyn's Waterfront. In Brooklyn, queer history began along the waterfront, from the docks of Vinegar Hill, to the factories of the Brooklyn Navy Yard, to the seaside amusements of Coney Island. In this talk, Ryan covers 100+ years of queer Brooklyn, from Walt Whitman to WWII, and beyond.

Find out more here
A poster by fierce pussy


NANCY BROOKS BRODY & CARRIE YAMAOKA
LIVE LOUD NOW: Honoring fierce pussy
Wednesday, June 6th, 6-9pm


QUEERPOWER facade on view through: April 2019

Leslie-Lohman Museum of Gay and Lesbian Art
26 Wooster St.
New York City, NY 10013

2018-2019 QAM Mentor Nancy Brooks Brody and 2016-2017 QAM Mentor Carrie Yamaoka, both members of fierce pussy, will be honored along with fellow member Joy Episalla, to celebrate the unveiling of their new QUEERPOWER facade installation. fierce pussy is a collective of queer women artists, formed in New York City in 1991, who, through their immersion in AIDS activism during a decade of increasing political mobilization around gay rights, brought lesbian identity and visibility directly into the streets.

More info here
And purchase tickets here
A recent performance of iele paloumpis' "Oceanic End" (photo by Scott Shaw)


iele paloumpis
La Mama's Squirts: Q(here)magiQue
Friday, June 8th, 7pm



La MaMa - Downstairs
66 E. 4th St.
New York, NY 10003

2012-2013 QAM Fellow iele paloumpis will perform for Q(here)magiQue, one of three nights in the series La MaMa's Squirts: Generations of Queer Performance.Q(here)magiQue, curated by Eva Yaa Asantewaa, is an evening of improvisation, manifesting multidimensional queer space for queer spirituality, and casting spells through dance and the word.

More info and tickets here


MARCO DASILVA
On Euphoria: A Closing Celebration forNo Reason To Be Careful
On Euphoria:

Friday, June 8th, 7-9pm


Exhibition on view through:

Sunday, June 10th



BGSQD at The LGBT Center
208 W. 13th St.
New York, NY 10011

Current QAM Fellow