This week at the Palo Alto Art Center

Fall Registration Begins for Children and Adults
Registration for fall classes begins on

Aug. 21

for residents, and

Aug. 28

for non-residents. Adults can choose from a variety of ceramics courses, as well as classes in drawing, painting, jewelry fabrication and photography. Children and teens can experience classes in ceramics, painting, drawing, stop-motion animation, and photography. We will also offer a Creative Mapping class that ties in with our fall exhibition, Front Yard/Backstreet. Check out our fall catalogue to get all the details on our upcoming classes and workshops.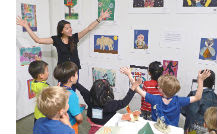 Join the Art Center Team
Seeking a part-time job in the arts? The Gallery Shop at the Art Center is currently in search of a part-time Sales Associate to work Saturdays and Sundays. This position is perfect for someone who loves to work with the public and has some previous customer service or retail experience. To apply, email Gallery Shop Manager Elizabeth Evans, at elizabeth.evans@cityofpaloalto.org. The Art Center is also seeking a Project LOOK! Coordinator to oversee the day-to-day operations of the Art Center's school tour program for grades K-12; and a House Manager to provide facility support, coordinate set up and equipment needs, and provide security during special events and rentals. More information on these positions is available on the City of Palo Alto job opportunities web site.
Get Your Daily Painting Practice
Join Ann McMillan for an overview of painting skills! During this two-day Daily Painting Practice workshop we will explore color mixing and composition, how to set up a quick painting kit, and create paintings with strong shapes and clean colors. The focus will be on authentic observation of still life and landscape subjects. Discover the fun of painting in this colorful workshop!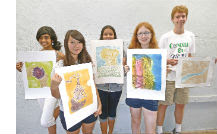 Middle School Art Classes at Mitchell Park
Is your middle school student interested in technology and art? The Art Center is offering three afternoon classes in the Mitchell Park Adobe Tech Classroom this fall. Digital Photography, Stop-Motion Animation, and Film & Time-Based Art are the perfect opportunity for creativity and skill building. These classes are for anyone who wants to explore artmaking in the digital world. For more information and registration, go here.
The Palo Alto Art Center is your place to discover art.
See, make, and be inspired
because everyone is an artist.
Palo Alto Art Center
1313 Newell Rd. Palo Alto, CA 94303
Tuesday

-

Saturday

10 a.m. - 5 p.m.
Thursday

10 a.m. - 9 p.m.

;

Sunday

1 - 5 p.m.

Closed

Monday
The Palo Alto Art Center, Division of Arts and Sciences, City of Palo Alto is funded in part by grants from
Silicon Valley Creates and the Palo Alto Art Center Foundation. The Palo Alto Art Center Foundation gratefully

acknowledges support from the David and Lucile Packard Foundation, The William and Flora Hewlett Foundation,

Yellow Chair Foundation, private donations, and members.