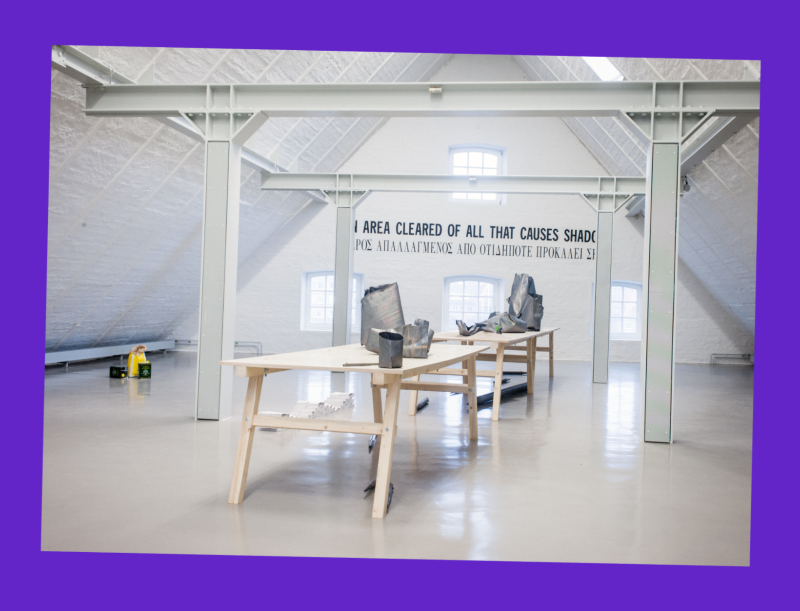 2016-2017 QAM Fellow Virgil B/G Taylor, Installation view of "Hansa Boy etwas das kommt nie wieder vor," 2020
QUEER|ART EVENTS: MARCH 2021
Woah. This March marks one year from the dramatic shifts of March, 2020. Surveying the work of our Queer|Art community artists this month, we marvel at how much has changed in those twelve months—both in the ways we create art and how we experience and appreciate it. And we wonder how many of those changes will stick around, and how many will pass with another year. Only time will tell!

For now, let's dive in. This month:
Angelo Madsen Minax's North by Current premieres at Berlinale (March 1st-5th)

moniquemeloche presents a solo exhibition of new work by Maia Cruz Palileo in Boston (March 6th - April 10th)

Daniel Chew and Micaela Durand's First streaming via e-flux (Through March 8th)

Work by Barbara Hammer and Carolee Schneemann streaming online via the Rosendale Theatre (March 12th-14th)

Seyi Adebanjo's Honor Black Trans Womxn! streaming online for the UK-based program YOU DON'T OWN ME (March 13th)
Adam Baran's Trade Center premieres at South by Southwest (March 16th-20th)

A Virtual Roundtable with Lola Flash and KT Pe Benito (March 18th)

Cuchifritos Gallery's Drawn Together, with work by Maia Chao, on view online/in NYC (Through March 20th)
Frédéric Tcheng presents Teorema/A Summer Dress for Queer|Art|Film (March 22nd)
Interlude, a new audio drama by Harrison David Rivers, streaming online (Through March 24th)
Seven Sunsets, seven weeks of activations, featuring Sasha Wortzel and six collaborators, via Oolite Arts on Instagram (Through April 4th)
More on these works and more accessible March events/announcements below!

—Evan Scott, Newsletter Editor
THIS MONTH'S EVENTS AND ACCESSIBLE ARTWORKS BY QUEER|ART ARTISTS
Angelo Madsen Minax
March 1st - 5th:
North by Current
Online Event: North by Current, a new film by 2020-2021 QAM Mentor

Angelo Madsen Minax

, will premiere at the Berlin International Film Festival. The festival runs for press/industry March 1st-5th, with a selection of films being made available for the public in June. North by Current, which follows Minax as he returns to his rural Michigan hometown after his sister and brother-in-law's wrongful persecution for the inconclusive death of his niece, was also acquired by PBS' long-running documentary series, POV, for U.S. Broadcast rights. More info

here

and

here

.
Maia Cruz Palileo
March 6th - April 10th: The Answer is the Waves of the Sea
Exhibition (Chicago):
moniquemeloche will present The Answer is the Waves of the Sea, an exhibition of new paintings by 2020-2021 QAM Mentor

Maia Cruz Palileo

. Informed by her family's Filipino heritage, Palileo investigates the malleable language of painting, offering a panoramic lens through which to investigate the larger questions pertaining to forgotten histories and how best to honor these stories in perpetuity. More info

here

.
Daniel Chew
Through March 8th:
First
Streaming:
First, a short film by 2018-2019 QAM Fellow

Daniel Chew

and Micaela Durand, is screening as part of e-flux Video & Film's Virtually Yours, the second part of the online series True Fake: Troubling the Real in Artists' Films, programmed by Lukas Brasiskis. The work is a glimpse into the realities that teenagers have to negotiate today—how they connect through personas and engage in random digital encounters, and how that in turn shapes them. More

here

.
Barbara Hammer
March 12th - 14th: Women in Experiment Film Program
Online Events/Exhibition (Rosendale, NY):
The Rosendale Theatre will present Women in Experiment: Carolee Schneemann and Barbara Hammer, a film and event program. Films by both Carolee Schneemann (1939-2019) and QAM Mentor/Award Honoree

Barbara Hammer

(1939-2019) will be screened, along with panel discussions and an in-theatre media gallery at the theater in Rosendale, New York. More info

here

.
Seyi Adebanjo
March 13th, 3pm ET: Honor Black Trans Womxn!
Online Event: 2013-2014 QAM Fellow

Seyi Adebanjo

's film Honor Black Trans Womxn! will screen as part of the online festival, YOU DON'T OWN ME: Tales of Resistance, presented by DINA, in collaboration with Reel Femme and Boxie. The film is a call to center Black Trans Womxn, protect and celebrate Black Trans Womxn. What would it look like if Black Trans Womxn were allowed to thrive vs murdered? More

here
.
Adam Baran
March 16th - 20th: Trade Center
Online Event:
Co-curator of Queer|Art|Film

Adam Baran

's new film, Trade Center, will premiere at the South by Southwest film festival.

The documentary short film explores the World Trade Center's often overlooked history as a gay cruising site, and considers what is inevitably lost with the commercialization of an historical landmark. March 16th-20th, more

here

and

here

.
Melissa Li
March 16th, 10am ET: Kleban Prize Ceremony
Online Event: Co-librettists 2012-2013 QAM Fellow

Melissa Li

and Kit Yan and lyricist Benjamin Scheuer have been selected as the winners of the 31st annual Kleban Prize for Musical Theatre. While the award celebrates the artists' career work overall, all three winners recently created works that center the transgender community and experience. The 2021 prizes will be presented at an online ceremony on March 16th. More forthcoming

here
.
We Are Here:
Visionaries of Color Transforming the Art World
March 18th, 6pm ET: Virtual Roundtable
Publication: Curated by

Jasmin Hernandez

, the new hardcover, We Are Here, presents the work of Black and Brown visionaries transforming the art world. Interview profiles in the book include members of the QA Community: QAM Fellow David

Antonio Cruz, QAM Mentors

Lola Flash

and

Tourmaline

, QA Prize Finalist

Kia Labeija

, QAF presenters

Felipe Baeza

and

Untitled Queen

, and QA Prize Manager

KT Pe Benito

! A virtual roundtable featuring Mohammed Fayaz, Lola Flash, and KT Pe Benito will be held by the Brooklyn Museum on March 18th. RSVP

here

, and more on the book

here
.
Maia Chao
Through March 20th:
Drawn Together
Virtual Exhibition/Exhibition (NYC):
Artists Alliance Inc./Cuchifritos Gallery's Drawn Together, featuring 2019-2020 QAM Fellow

Maia Chao

, Anaïs Duplan, and Yxta Maya Murray, reimagines contracts between art institutions and the artists, curators, and surrounding communities they impact. The artists will facilitate workshops with those who work for, with, and around Cuchifritos, to identify terms and conditions that might enhance the stakeholders' wellbeing. The artists will then propose new terms to the organization's bylaws, which will be voted on by the board of the nonprofit. More

here

. Anyone can contribute to the project, beginning by watching an orientation

here

.
QUEER|ART|FILM: FREE YOUR MIND
March 22nd, 8pm ET:
Frédéric Tcheng presents Teorema / A Summer Dress
Online Event: Organized by curators Adam Baran and Heather Lynn Johnson, the third "stay-at-home" season of our screening series—titled Queer|Art|Film Club: Free Your Mind—focuses on the art of cinema as it arrives at a challenging crossroads.

This month, Filmmaker/Multi-year QAM Mentor
Frédéric Tcheng
will lead discussions on two films: Pier Paolo Pasolini's Teorema and François Ozon's A Summer Dress. Tcheng describes Teorema as "a riddle that has fascinated me ever since I discovered it as a teenager," and A Summer Dress as "an irresistible haiku on the circulation of desire and the fluidity of gender." More info and RSVP
here

.
Harrison David Rivers
Through March 24th: Interlude
Online Event:
Interlude, a world premiere audio drama from NCTC's New Voices/New Work, is now streaming. Written by 2011-2012 QAM Fellow

Harrison David Rivers

, the work is a personal reflection of a gay Black man's experience during the transformative events of 2020. Directed by ShawnJ West, and starring H. Adam Harris. More info/purchase tickets

here

.
Avram Finkelstein
Public Art Series featuring Ken Gonzales-Day
Exhibition (NYC): As part of an ongoing series of public installations at Playwrights Horizons, co-curated by Multi-year QAM Mentor

Avram Finkelstein

and David Zinn, work by Ken Gonzales-Day will be presented beginning March 1st. From the artist's Profiled project, the installation places sculptures of human figures from Asia, Colombia, Japan, Mexico, Northern Europe, Singapore, and the United States in unexpected encounters with one another — not unlike many characters from many plays sharing a single stage. More info

here

, and watch a conversation with Finkelstein, Jilly Ballistic, Joy Episalla, and Adam Greenfield

here
.
Sasha Wortzel
Through April 4th: Seven Sunsets
Online Event:
In conjunction with the artist's Oolite Arts exhibition Dreams of Unknown Islands, 2012-2013 QAM Fellow

Sasha Wortzel

has invited six collaborators nationwide to activate seven minutes at sunset (ET) over a span of seven weeks. The series will culminate with a sunset video by Wortzel on April 4 in conjunction with the closing of the exhibition. More information

here

and stream on Instagram

here

.
Virgil B/G Taylor
Hansa Boy etwas das kommt nie wieder vor /
there is nothing to be found among the undisplaced
Exhibitions (Germany): The Weserburg Museum presents Shunted Sculptures Fleeting Words, which includes work by 2016-2017 QAM Fellow

Virgil B/G Taylor

. Taylor's Hansa Boy... explores the museum's location on the Teerhof peninsula, and 19th century politician Bürgermeister Johann Smidt, part of one of a local bridge's namesake, whose was committed to the removal of Jewish people from Bremen. More info

here

. Taylor also has an installation, entitled there is nothing to be found among the undisplaced, presented at Städtische Galerie Bremen. More

here

.

Beginning in April: Study Session: spread (medium)
In preparation for a series of performed reading groups in April (8th and 20th), Taylor and collaborator Ashkan Sepahvand are putting together proposed readings for those interested in attending. RSVP

here

.
Jacolby Satterwhite
Through May 9th:
Climate Changing
Exhibition (Columbus):
2011-2012 QAM Fellow

Jacolby Satterwhite

's work is featured in the group exhibition Climate Changing at the Wexner Center for the Arts. The exhibition foregrounds contemporary artists' engagement with social issues and shaping institutions, raising critical questions as we face the entwined crises of systemic racism and a global health pandemic. More info

here

.
Jibz Cameron / Silas Howard / Stacey Passon
Dickinson Season 2
Streaming: 2015-2016 QAM Mentors

Silas Howard

and

Stacie Passon

have each directed multiple episodes of the second season of the AppleTV+ series Dickinson, a dramatization of the life and times of Emily Dickinson. 2014-2015 QAM Mentor

Jibz Cameron

can be seen on the fifth episode, directed by Howard, playing the painter Sanford Robinson Gifford. More about the series and stream

here
.
Maia Chao / Chitra Ganesh
Best! Letters from Asian American in the arts
Publication: 2019-2020 QAM Fellow

Maia Chao

and 2014-2015 QAM Mentor