HEADLANDS
PUBLIC EVENTS
June 2019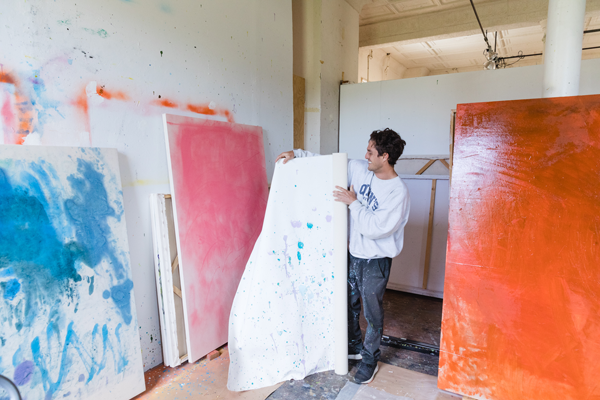 Chasen Wolcott in his studio at Headlands. Photo: Andria Lo
Wednesday, June 26 | 6PM
Poursauce by Chasen Wolcott:
Tournesol Award Book Release
Free | Gallery 16, San Francisco
Come celebrate the completion of Headlands' 2018–19
Tournesol Awardee
Chasen Wolcott's
award project, a publication conceived of, designed, and produced by the artist.
This event will be held at
Gallery 16
, located at 501 Third St in San Francisco. Live music by San Francisco-based
Banzai Cliff
.
In Project Space
Kori Newkirk, Republic, 2016; © Kori Newkirk
June 16–August 15 | Sunday–Thursday, 12–5PM
Project Space:
Rodney Ewing | Kori Newkirk
Free | Project Space at Headlands
Work in progress: June 16–July 25
Final installation: July 28–August 15
Artist Reception: Sunday, July 28, 4–6PM

Artists in Headlands' Project Space studios develop site-specific installations while in residence. Visitors are invited to experience their work throughout the season, at each stage: as a work in progress studio, a site for ideation and research, and as a completed installation.

Rodney Ewing: The Devil Finds Work
Oakland-based artist
Rodney Ewing
(Artist in Residence 2019) delves into a host of references to explore the topic of race in his new body of work,
The Devil Finds Work
. Illuminating personal stories and memories, he draws on the
Green-Book
, the story of H. Box Brown (a slave who shipped himself to freedom), and recent accounts of state-supported violence against African Americans.
Kori Newkirk
For
Kori Newkirk
(Artist in Residence 2019), "the idea dictates the material." Pony beads, hair pomade, bicycle tires, tin cans, his own sweat and saliva—the artist has used them all. Whimsical yet thought-provoking, his sculptures and two-dimensional visual works transform everyday materials to elucidate the human condition, delving especially into ideas of racialized identity and their connection to place.
Getting Here
Get directions
to Headlands by car or bike. 
Limited parking is available onsite. The
MUNI 76X bus
runs between San Francisco and Headlands on Saturdays and Sundays.
Invest in creativity—give to Headlands!
Give today