Next Phase of Creative Ecology Launches
Visitors to the Palo Alto Art Center will have the unique opportunity to watch artist Linda Gass create artwork as she begins the second phase of her Creative Ecology residency this week! Linda looks forward to meeting with the public as she works in her temporary studio on

Sept. 11

, 12, 25 and 26, and

Oct. 9

, 10, 23 and 24 from

1-5 p.m.

Stop by, meet Linda, and engage in the creative process!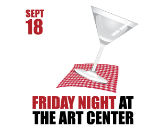 Mark your Calendar:
Friday

Night at the Art Center Returns
Join us at our next

Friday

Night at the Art Center on

Sept. 18

,

7-10 p.m.

, as we celebrate the opening of our fall exhibition, Front Yard/Backstreet. Don't miss this popular community event, which will include live music by Old Broads Rule, interactive activities presented by the Mobile Arts Platform, hands-on artmaking, a special performance by Front Yard/Backstreet artists Robin Lasser and Adrienne Pao, the Slider Truck, the Kona Shaved Ice Truck, and a cash bar featuring a specialty cocktail provided by the Palo Alto Art Center Foundation. Gather your crew and join us for a fun evening at the Art Center!
Check out our Children's Fine Art
and Adult Studios Open House
Tour the Art Center during our Children's Fine Art (CFA) and Adult Studios Open House and learn about our fall classes for children, teens and adults on

Sept. 10

,

5-7 p.m.

Meet the staff, learn about the planned art lessons, ask questions, and register for classes with our helpful visitor services staff. For more information, email artcenter@cityofpaloalto.org, or call 650.329.2366.
Become a Circle Member of the Foundation
Enjoy a Circle membership at the Palo Alto Art Center—Circle level members receive invitations to three exclusive parties each year, including an artist lecture, a tour of a private collection, and an off-site artist studio visit. In addition, Circle members can attend our most popular party of the year, Candlelight Cocktails at the Great Glass Pumpkin Patch, and the annual Clay and Glass Festival Breakfast. Members also receive a 10% discount at the Gallery Shop, 20% off purchases at University Art, and a discount on one summer camp or class. Want to visit 600 museums across the country? Our reciprocal membership program will take you there.
The Palo Alto Art Center is your place to discover art.
See, make, and be inspired
because everyone is an artist.
Palo Alto Art Center
1313 Newell Rd. Palo Alto, CA 94303
Tuesday

-

Saturday

10 a.m. - 5 p.m.
Thursday

10 a.m. - 9 p.m.

;

Sunday

1 - 5 p.m.

Closed

Monday
The Palo Alto Art Center, Division of Arts and Sciences, City of Palo Alto is funded in part by grants from
Silicon Valley Creates and the Palo Alto Art Center Foundation. The Palo Alto Art Center Foundation gratefully

acknowledges support from the David and Lucile Packard Foundation, The William and Flora Hewlett Foundation,

Yellow Chair Foundation, private donations, and members.